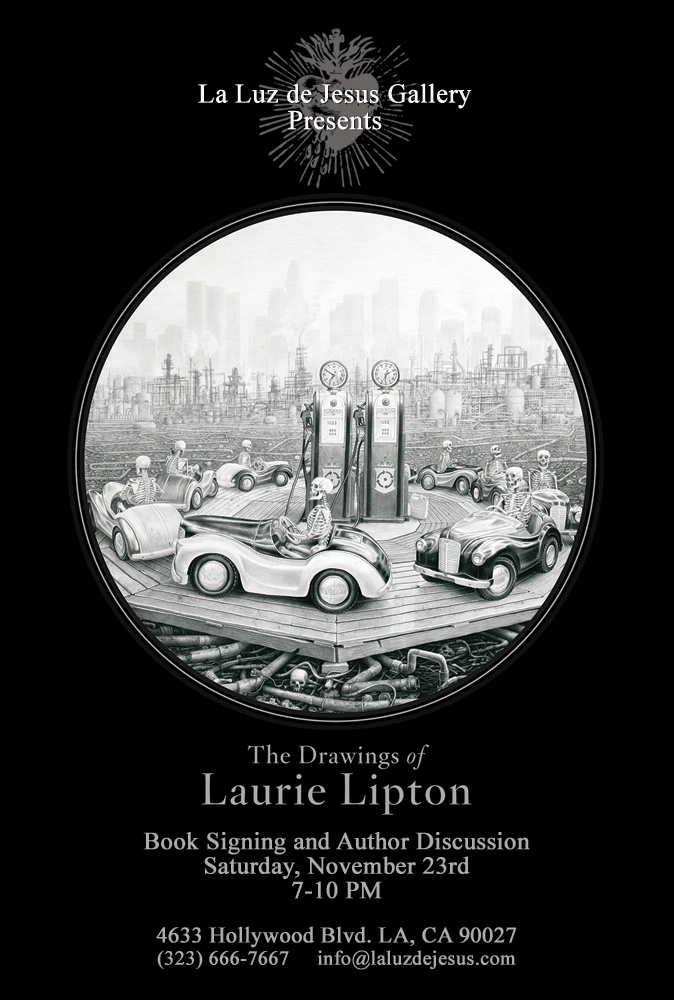 23 Nov

The Drawings of Laurie Lipton: Book Signing and Discussion
The Drawings of Laurie Lipton: Book Signing and Discussion
Saturday, November 23rd; 7-10 PM. Artist Talk at 8:30 PM

The Drawings of Laurie Lipton
is a comprehensive survey of Lipton's fantastical, painstakingly detailed, hand-drawn images, this is the most conclusive and ambitious publication about the artist to date.
A conversation between Lipton and Begovich Gallery Director Mike McGee, offers insights into her personal history, motivations and creative process. Lipton's brief notes about several specific artworks offer further anecdotes and context.
Lipton was inspired by the religious paintings of the Flemish School. She tried to teach herself how to paint in the style of the 16th century Dutch Masters and failed. When traveling around Europe as a student, she began developing her very own peculiar drawing technique building up tone with thousands of fine cross-hatching lines like an egg tempera painting. "It's an insane way to draw", she says, "but the resulting detail and luminosity is worth the amount of effort. My drawings take longer to create than a painting of equal size and detail."
"It was all abstract and conceptual art when I attended university. My teachers told me that figurative art went "out" in the Middle Ages and that I should express myself using form and shapes, but splashes on canvas and rocks on the floor bored me. I knew what I wanted: to create something no one had ever seen before, something that was brewing in the back of my brain. What I wanted fell between "isms". It wasn't "surreal", it wasn't "real"… it was lurking between the two. I used to sit for hours in the library copying Durer, Memling, Van Eyck, Goya and Rembrandt. The photographer, Diane Arbus, was another of my inspirations. Her use of black and white hit me at the core of my Being. Black and white is the color of ancient photographs and old TV shows… it is the color of ghosts, longing, time passing, memory, and madness. Black and white ached. I realized that it was perfect for the imagery in my work."
Laurie Lipton was the first person to graduate from Carnegie-Mellon University in Pennsylvania with a Fine Arts Degree in Drawing (with honors). She has lived in Holland, Belgium, Germany, France, and London, and has recently moved back to the USA after 36 years abroad. Her work has been exhibited extensively throughout Europe and the USA.
Mike McGee is director of the Begovich Gallery and a professor at Cal State University, Fullerton. His essays have appeared in Juxtapoz, tema celeste, OC Weekly, OC Register and other publications.
The Drawings of Laurie Lipton
Hardcover 160 pages
ISBN-13: 9780867197846
Publisher: Last Gasp of San Francisco
1 x 8.9 x 11.8 inches
shipping weight: 3 pounds
$39.95
IF YOU CAN'T ATTEND THE SIGNING – contact sales@soapplant.com
or call the book store at (323) 663-0122 to reserve a signed copy of the book.