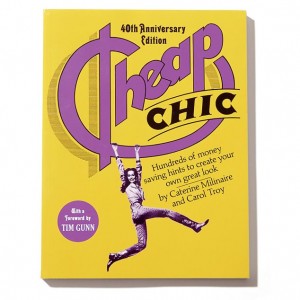 Milinaire, Caterine. Troy, Carol. Cheap Chic: Hundreds of Money Saving Hints to Create Your Own Great Look. New York: Harmony Books, 1975. Print.
"One good friend of ours who dresses like a modern-day John Wayne professes to care nothing, or very little, about the clothes he wears. And yet he combs the city to find the precise pair of jeans he wants – Lees. Why? Because jeans, like almost everything else, have fallen prey to the fashion cycle. You can find bell-bottomed jeans, bootleg jeans, even flared jeans. But just try to fine a regular, trusty old pair of straight-legged denim jeans with no frills. Our friend has looked in Columbus, Ohio (Surely the farmers would have them!), in Chicago, Illinois and in Binghamton, New York. His only dependable source: Kauffman's Riding Store in New York City. Jeans are such a totem of American culture that they inspire that kind of mania for the marginal differences, for the tiny details that will set you off from the crowd, set you apart from the blue-legged masses.
In the fifties, jeans were good as gold behind the Iron Curtain: to the Russians they summed up all the romantic promise of the American frontier, the wildness of the West. Like nylons in World War II, jeans were great for bartering and bribing. The Levi trademark-that little red tab sewn into the side of the back pocket-is registered in sixty countries including Russia, where they don't even make jeans.
Originally, jeans were coveted in Paris, and then Yves St. Laurent came along and knocked them off in couture. The French have taken the basic idea of blue jeans, restyled and recut them for that tight European fit… and now they sell like crazy in America at twice the original price. It's typical of the French to pick up basic American design and transform it with colorings and proportion into something quintessentially Parisian, something almost like a national uniform.
A good basic pair of jeans will last several years, mold themselves to your body, and fade with style. Like all good clothes, they improve with age. In the summer, you can cut them off into shorts; in the winter. Open the seams of the legs, set in a piece of denim and have a long warm skirt.
The price of jeans is going up, due to worldwide demand for denim but they remain one of the Central American classics.
Once you find a brand of jeans that fits you the way you like to be fit, stick with it. Plan on the waist and inseam shrinking about 8%. Levi Strauss bootleg jeans are cut shorter in the front of the leg and longer in the back so they'll look good over Frye boots, cowboy boots or any boots with heels. Straight-legged Lees have an easy fit and fly front whereas Wranglers come in a more malleable denim that takes less breaking in but is less durable. You can choose a less sturdy, less expensive brand like Wayfarers of Landlubbers which don't last a lifetime but are easy to settle into. Once you've settled on your best size and brand, it's sometimes easier to buy them already worn at a swap meet rather than breaking them in yourself. Or, as John Burks noted in a book about jeans, "When you're rich, you have them pre bleached and pressed. Bleached Levi's: upward mobility."
Jeans come in all styles and colors these days, but beware! Stick with straight legs or pegged legs without cuffs and avoid jeans cut very low at the hips. Even jeans can do you in with supermarket over choice. Stick to the basics because that "fashion detailing," like industrial-zipper-fly fronts, is going to tire real fast.
If you've never been fond of jeans, consider buying a few pair of green Army fatigue pants with the pockets on the sides. All over Europe, fashionable girls are wearing them tucked into the tops of their high leather boots or with a pair of patterned socks and loafers. The fabric is the best, and the U.S. Army is easily the equal of the Levi Strauss Company when it comes to putting together a totally functional, beautifully designed piece of clothing.
If you don't relish the thought of marching around looking like Vietnam vet in jungle green pants, there's yet another alternative—white pants. You can buy white jeans, English or American sailor pants, or painter's pants.
Sailor pants have wide, straight legs and come in tightly woven, long-lasting cotton twill with buttoned closings. They should run about $6 if they're truly "surplus" and not some slyly manufactured imitation. And if they are the real thing, you'll find they take dye beautifully because of their pure cotton fiber.
The first time we saw white painter's pants was in a "street fashion" photograph in the Los Angeles Times. You can find them at Standard Brands Paints in Los Angeles for $.69 or in boutiques for several times that. They're a great buy, with all sorts of mysterious pockets, straps, and tabs designed for the house-painter's craft. A designer in North Hollywood, who could choose to wear any of her luxurious designs, seems to wear nothing but painter's pants and T-shirts under her forties-look velour jackets and coats.
Of course, now that everyone's been wearing pants as a daily routine, there's a strong feeling in the air for skirts. We're over the boring, burning issue of how long a skirt should be, and can lean back and realize how really nice they feel on the legs and how charming they look to others. A tight skirt isn't really practical in this era of constant movement, but as A-line or wrap around skirt is surely a basic. If you feel your legs are too big for pants, but love the look of jeans, you can get yourself a pocketed, button-front denim skirt or a skirt made of recycled jeans that has the same good qualities you'd find in a pair of jeans-classic looks and durability. In the summer, a loose cotton skirt with a drawstring waist or a full-circle skirt feels airy and sensual and much freer than jeans."
THE WEST HOLLYWOOD PAPER
May – June, 1986
Urban Anthropology Section
"Here we have the exterior of The Soap Plant on Melrose. For several weeks, it has been clear madness flurrying through the painters coloring the building. It is gaudy, hot, pink, green, other colors, multi-designed, and just swell. It even has some pretty distinguished skulls and crossbones in the Mexican manner as a part of the design.
Last Saturday, these three prehistoric fellows were leaning out of the windows facing Melrose. Now they are around the corner, trying to reinvade what clearly is their summer residence. We hope they can get backing soon and start looking out the windows again. We very much enjoyed having them watch us as we drove by. We're hoping they'll get to know us well enough to wave as we pass. Go see them. Maybe they'll wave at you."
THE L.A. WEEKLY
February 13 – 19, 1981
Shopping Guide Issue
"The Soap Plant, 7400 Melrose Ave., 651-5587. Los Angelenos who are familiar with the Echo Park store will cheer this new arrival that continues in the same vein. Owner Billy Shire calls his stores "whimsical, visual grab-bags, department stores of wildness." I'm sure that shoppers will happily concur. The glad tidings include an enormous variety of, what else?, soaps and scents bins of rubber stamps, cards and paper goods, plastic and tin toys: ceramics and glassware, clothing, make-up and masks jewelry and hair ornaments and God knows what else. Prices are incredibly affordable, starting as low as a dime and sometimes, rarely, soaring to $150."
April 29 – May 5, 1998
Avenue of the Stars
By Belissa Cohen
"L.A.'s new generation of high-visibility hipsters has turned Melrose Avenue into the new Hollywood Walk of Fame. Where else would "the Industry's " well-heeled and trendy shop than on Melrose, where delectable little stores nestle side-by-side like bon-bons in a box? It's definitely the best place to catch your faves in that elusive performance of " Just Plain Folks"; a casual stroll can result in not just one celebrity sighting, but also several. There's certainly no better place, if you're a famous face, to take a fairly relaxing shopping jaunt – Melrose shopping clerks are so jaded they wouldn't be caught dead batting an eye.
Cher, whose 1970s Beverly Hills sprees are the stuff of legend, leads the new generation of world-class shoppers. She bought her Gratziella for Fortura metal mesh" I Found Someone" dress and leggings at English Eccentrics. ( Bangle Vicky Peterson bought another for the "Hazy Shade of Winter" video, and wore Eccentrics' patent leather Phaze leotard underneath: Brigitte Nielson buys her Gratziella minis at Fred Segal.) For sweaters with matching leggings, Cher does Renaissance and Let It Rock for bootstraps. Cher swoops into the Ecru Couture for scads of hats, and Fred Segal for lots of jeans. Comme les Garcons makes house calls.
But not for Billy Idol, seen in CLG recently with Perri Lister, carting off Masanori Satoh's riding jackets and motorcycle pants. Comme les Garcons is where Heather Locklear scored a fur-trimmed black leather jacket for Motley hubby Tommy Lee, and Roseanna Arquette scooped up a white leather jacket. Both Nicolette Sheridan (Knot's Landing) and Geena Davis (Beetlejuice) bought Akiko Sakaizumi's sexy rayon eye-hooked skirts and jackets. Night court's Markie Post buys CLG's exotic dressy dresses; making a living's Cheryl Lee Ralph prefers their brightly colored backless silk dresses with contrasting hip sashes.
Shy Jody Watley initially had to be dragged into the somewhat intimidating CLG, but returns frequently for shoes – backless pumps with taffeta pom-poms and English boots by Boy A shoe fetishism? She hits Let It Rock for the patent leather boots you've seen her wear in videos, and English Eccentrics for Christine Ahrens' flats and boots and Minnie Mouse heels by Patrick Cox. (Bill Murray also buys Christine Athrens for female friends. Josie "Johnny Are You Queer?" Cotton prefers the very wild bump-toed oxfords by John Moore).
Among actresses and singers, Tiziana is must-shop. The Bangles (also seen in Betsy Johnson) and Banarama buy stage and party clothes here; disco divas Pepsi & Shirlee wear Tiziana's Tipich bras ands Pat Field garter belts: and teen Queen Debbie Gibson's crazy for Rachel London's flower bedecked dresses ( as is former Charlie's Angel Tanya Roberts). Tiziana is where they Miami Vice-ed Sheena Easton in John Babcook denims, Isaia Tapper and Harris leather jackets.
Speaking of stage clothes; Michael Jackson and bodyguard darted into the funky-punk Retail Slut for belts pre-tour. And that bolero-style "poseur" hat featured in video after video? We know that Lisa Lisa and the Cult Jam got theirs at War Babies, where Motley Crue also buys hats and Judd Nelson shops for German Army Fatigues and shorts.
Not unlike ourselves, some stars prefer their fashions already broken in. Lots and lots of "wild stuff" from Aaardvark's Odd Ark went home with Alice Cooper, while Karen Black tried on scads of '20s – '40s dresses and lingerie, nightgowns – and left without buying anything! (just think, you may be wearing her rejects.) The Cult's Ian Astbury, in waist-length hair and top hat, snagged a very American Batman T-shirt. But among their most popular items, as always, is the Hawaiian shirt: Eddie Van Halen and Valerie Bertinelli bought one, along with several pairs of worn Levi's and several bowling shirts, while Catherine Deneuve – nearly an Aaardvaark regular these days – bought $400 worth!
George Michael shops at Leathers and Treasures consistently (though Tiziana was responsible for 100% of the female cast's wardrobe in his "father figure"video), as does Bruce Springsteen, who's bought a couple dozen pair of their cowboy boots and wears their heart shaped silver bolo tie on the cover of tunnel love. (You can catch the Boss buying – shat else? – jeans at Fred Segal, though he complains about prices.) Jon Bon Jovi had Leathers and Treasures custom-make a sterling silver concho and leather belt. David Bowie came into the store for the custom-made conch decorated leather pants he wears in his "Day In Day Out" video.
Ex-Stray Cat Brian Setzer is a favorite at both Leathers and Treasures and Let It Rock; he even brought his mom and dad down to meet everyone. He buys his jeans and T's – doesn't everyone? – at Fred Segal, while his wife shops at Pee Wee Segal. At leathers and treasures they call sultry songstress Sade a "sweetheart", Simon Le Bon, who calls the store his favorite store in LA, gave the entire staff fourth row seats to the last Duran Duran concert.
And what are the gear-buying habits of the Hollywood Harley crowd? Steve Jones, Mickey Rourke, Charlie Sexton, Nick Cage,et al.? At Leathers and Treasures, the sales people say those guys buy so many jackets no one can figure it out. Ditto at Let It Rock, that mecca of Rock 'n' Roll style, which also caters to Nick Cage's leather jacket "habit". Nearly Dark's Jenny Wright recently accompanied Debbie Harry, Chris Stein and neo –punk designer Stephen Sprouse on a Let It Rock boot-and –shoe-buying spree. Ozzy Osbourne wandered in for a suit or two and Kingdom Come are regulars, as are Guns N' Roses. Of course, L.A. Guns, managed by store co-owner Alan Jones, often put in an appearance. Heck, even ferret like Crispin Glover has skulked in – and quickly out.
(Not so much interested in shopping as hanging out, Harley boys Brett Michaels and Rikki Rocket of Poison seem to have a lot of time for Melrose – but they're just riding around, thank you very much. Where would they put the packages?)
After renting stuff from Leathers and Treasures for her TV show, Adifferent World, Lisa Bonet ended up buying it all. She buys her Dr. Martens at Warbabies and jewelry at Maya. Justine Bateman's done business everywhere: Pole, where an
Elise Seymore jacket was specially redesigned for her; the Soap Plant, where excellent taste led her to Suzie Ketchum's bold pottery; Industrial Revolution, where she goes with beau Leif(yes, that's Garrett) when he doesn't go alone; and Tiziana, for a MarkWongNark (similar to Farrah's).
At Pole, Heather Locklear corralled a couple of sheer silk animal-print tops by Yven and Marzia – and lace suspenders. And that's where Rosanna Arquette discovered Leahpatra's knits and Lawrence's brocade jackets and pants; she bought the very last Laurel Fenenga slouch top hat (which were disappearing right off the heads of salespersons), and wore it out of the store and right into the pages of People magazine.
The stars crowd into the Soap Plant's La Luz de Jesus Gallery; Debbie Harry buys Haitian voodoo bottles, said to contain spirits and their Peruvian good-luck house charms. Shopping partner Stephen Sprouse covets Will Powers' beaded necklaces. Eurythmics Dave Stewart likes the sequined voodoo banners and Penny Marshall the M. Stark folk art. (Joni Mitchell stayed in character with a few Guatemalan scarves.)
Pat Benatar picked up a goodly amount of "Day of the Dead" objets d'art there recently and the generous Belinda Carlisle, according to La Luz curator Robert Lopez, "always seems to be buying gifts." (When lovely Lisa Bonet requested a discount on an Indonesian jewelry box, Robert, a pushover, gave it to her) Thrifty Darrel Hannah, price comparing Neon Park reproductions, walked away with his "Three Little Pigs" for $100. Faint-hearted Beverly D'Angelo, after two minutes in the colorful gallery, just walked.
Downstairs in the superstar category, Madonna buys from the Soap Plant's huge selection of bath products, while Billy Idol sent in his chauffeur for Rambo gum. And the 500 rubber chickens present at a recent celebrity wedding reception? Bruce Willis and Demi More got them at Wacko.
At Fred Segal you'll always spot the big names: Bette Davis, who spent five hours selecting Big John jeans, Helmet hats (she loves them) and a selection of extra small belts; Janet Jackson, who frequented the T-shirt department; Rod Stewart, who recently bought a suitcase full of summer whites for a trip to Mexico and Lionel Richie, who's very proud of his Avirix leather jacket. Though they go to school in Switzerland, Sophia Lauren's two teenaged sons come here with Mom to shop for jeans and shirts by Girbrauld, Diesel and Chipie, and Kathleen Turner, Sally Kellerman and LA Lawx Corbin Bernsen choose from the largest selection of stonewashed go-silk separates.
At the other end of the street, where Jennifer Jason Leigh bought Maia Norman's typewriterball tiara with attached earrings for an upcoming movie in which she plays a performance artist. Deanne Setzer bagged a Mel Hurst riding jacket here and ex Saturday Night Liver Michael O'Donoghue picked up – we presume as a gift – a pair of Erika Brich framec-photo earrings and one of Cynthia Perry's painted crowns.
See, you couldn't swing a dead cat on Melrose Avenue without hitting a social icon or two. So if your agenda is rubbernecking and you've set your sights on famous flesh, an afternoon spent loitering around Melrose should yield at least a few stories with which to make amusing cocktail-party patter. And hey, at the very least you'll get some shopping done!"
THE LOS ANGELES TIMES
July 17, 1988
Calendar Section
Folk Art with a touch of madness is thriving at West Hollywood Gallery
By Denise Hamilton
"It's Friday night at La Luz de Jesus Folk Art Gallery, and the Elvis impersonator is donning his clerical robes. In 10 minutes, the ordained minister with sideburns will join in holy matrimony Simy Fhima, a waitress at the chic Caribbean restaurant Cha Cha Cha,and Marcus Kuiland, a gallery attendant at La Luz.
Forget about wine and cheese. Openings have a different flavor at this topsy-turvy folk art gallery with the rhyming rap name that perches above the Soap Plant Boutique on Melrose Avenue.
"We're not in the gallery mainstream," says La Luz owner Billy Shire, a businessman whose colorful garb and long hair make him look more like a primitive medicine man than a hipster.
Shire, who also oversees the burgeoning Soap Plant empire plus the stores Wacko and Zulu, and his curator, Robert Lopez, a former punk rocker with the LA band "The Zeros", have staked out some heady conceptual turf on this psychedelic-colored corner of Melrose and Martel Avenue in West Hollywood.
It's no more unusual for an Elvis impersonator-cum-minister to pop up at an opening that for a 12-piece gospel choir to descend the stairs belting out hallelujahs. All in keeping with whatever's hanging on the walls, of course-which ranges from the work of hip cartoonists to new wave rock stars, retired Baptist ministers and entire exhibits of primitive art devoted to the King himself.
Shire isn't in the haute art business, although some of his older, rarer pieces, such as carved-wood Mexican saints, have fetched $3,000. Paintings range in price from three digits to five.
"I don't separate the art from the kitsch. I like to mix it all up." he says.
Shire's goal is to topple art off its pedestal and deliver it to the masses. In folk form. That means exhibiting Haitian voodoo flags one month and Mexican post cards by Devo front man Mark Mothersbaugh, a former art student, the next. Or comics by Matt "Life in Hell" Groening. Or primitive paintings of wailing walls and fiddlers on the roof by a 75-year old Romanian immigrant named Maicol Stark whom Lopez "discovered" at a nearby garage sale.
"Art should be by the people and for the people," Shire says. "It should be by the people and for the people," Shire says. "It should be something that speaks to you, that entertains and challenges and changes your outlook."
La Luz gets kudos from more traditional folk art experts.
Laurie Beth Kalb, a folk artist and curator at the Crafts and Folk Art Museum in LA, says her museum often directs patrons to La Luz.
"Whether they're traditional or contemporary doesn't negate the fact that they're folk art. The nice thing is that folk art is being acknowledged on Melrose Avenue," Kalb says.
Kathy Golden, who owns Primitivo, a San Francisco folk art gallery, says the people at La Luz have a discerning eye for spotting strong work by untrained artists.
"There's no one else in LA doing what they're doing. They're not dictated to by what's going on in the art market; they choose it because they like it," Golden says.
Folk art fanatics like Shire and Golden say that until recently, they felt "almost like a secret society, where people would buy directly from the artist" and the initiated shared a passion that most relegated to the art world junk heap. No longer.
While few think folk art will eclipse French Impressionism any time soon, many say the genre is coming into its own.
"LA is becoming a larger melting pot where every cultural folk style is accepted," La Luz curator Lopez says. "I like to mix them all up. Catholic, Buddhist, Haitian voodoo, Jewish. There's an underlying spiritual openness here."
Shire, whose brother is ceramic artist and furniture designer Peter Shire, says 20% of his patrons come from the film, music or art business.
How much of the art actually sells?
Shire wishes it were more. A recent show of work by Josh Gosfield, a quirky East Coast artist whose work blends cool jazz, the Wild West, Cubism and images from the Mexican Revolution, sold two paintings. But a show by artist Robert Williams sold nine, including a huge $15,000 painting called "Pecos Fiona and Her One Woman Range War Against Troglodytal Hipsters."
The gallery rarely advertises. There's no big sign on Melrose to lure patrons. The entrance is on Martel, up a flight of rickety red-carpeted stairs.
None-the-less, Lopez has doubled the exhibition space since La Luz opened in October, 1986, as a repository for the one-of-a-kind religious artifacts that Shire unearth on trips to Mexico.
Shire says :a Luz is subsidized by his retail shops and a gallery gift shop that does brisk business, especially in such Day of the Dead memorabilia as dancing skeletons, skulls and gaily painted "Tree of Life" candle holders.
But the main mission remains bringing quirky folk artists into the public eye.
In addition to discovering Stark, whose paintings now hang in the homes of Belinda Carlisle, Tom Waits and Penny Marshall. Shire & Co. also gave Filipino artist Manuel Ocampo, a 23 year-old whose work evokes Russian constuctivist Aleksandr Rodchenko – his first show. Lopez said that when he met Ocampo, the artist was so poor he was painting over old canvases.
La Luz also gave Jon Bok his first show. Bok is known for his bottle-cap encrusted crosses and handcrafted furniture of wood, hammered tin and mosaic tile sprinkled with glitter or bits of glass.
La Luz is booked through April of1989, and Lopez says he turns away 5 would be exhibitors a week.
What he looks for is "something off the wall, with that certain edge, slightly wacko-ish, it's hard to describe.
Like the surf-art show he's planning for the near future.
Is it art, is it high kitsch, and does it matter?
"In the long run, it's not important what Ph.D.s and art historians think," says Golden, of the San Francisco based Primitivo.
"Folk art is becoming more accepted, especially with young collectors and La Luz is part of that . There are serious collectors going in to see what they do."
October 27,1989
Calendar Section
The Action in Folk Art
By Shauna Snow
Trends: Often dismissed as "tourist" fare, crafts are commanding attention-and higher prices.
Ann Ulvestad retreats to her Park La Brea-area kitchen when she has a lot of thinking to do. That's where she keeps some of her favorite pieces of Latin-American folk art: a woodcarving of a purple mermaid with bright orange hair and a brightly colored 3 1⁄2 foot Tree of Life candelabra painted with biblical and mythical figures.
"I enjoy being surrounded by things that are pleasing to the eye," said Ulvestad, an actress and writer who guesses that she owns about 100 smiling papier-mâché skeletons. "I'm particularly interested in Day of the Dead figures because, for me, when I first saw them, they were very life affirming. I was them as dead people who are very alive, singing and dancing and so on."
Lawrence Gipe and wife Lauren Lesko collect a different type of folk art-painted lacquer-ware, retablos (wall hangings that are saints painted on a sheet of tin, which often comes from a discarded oil can) and ex-votos (paintings of miracles, also on a sheet of tin). They have 13 retablos hanging in their Silver Lake living room.
"Both of us are artists," Gipe said. "There's so much irony and so much cynicism in the field that we work in that the non-ironic nature of retabols appeals to us. They reflect an incredible system of belief. Our home is a very sincere place and a very comforting place, and these retablos are just as sincere and comforting. And they're beautiful paintings also."
Ulvestad, Gipe and Lesko are not alone in their admiration of such "artworks." As leaders of the local folk arts and crafts community attest, folk art-a broad classification that can include museum-quality artworks and pieces that are often dismissed as only "tourist art"-is rapidly gaining popularity.
And the L.A. market for it is bright. The Craft and Folk Art Museum on Wilshire Boulevard is increasing its space from 2,000 to 55,000 square feet. Expanding local shops that specialize in the articles report that prices for some types of folk artworks have doubled and tripled in just the last couple of years.
Other area museums and art galleries also show folk art. The Southwest Museum's renowned collection of American Indian arts includes Indian baskets, textiles, and Hopi kachina dolls that museum officials classify as folk art. And a current show at Barnsdall Art Park's Junior Arts Center Gallery, "Cats, Coyotes and Other Critters," includes 36 woodcarvings by prominent Oaxacan folk artist Manuel Jiminez. His animals are displayed alongside works by more mainstream contemporary artists, such as Jiminez, potter Josefina Aguilar and Mexico City artist Pedro Linares, who makes papier-mâché skeleton figures, have risen to prominence.
"We have a few Jiminez pieces in our collection," said Patrick H. Ela, executive director of the Craft and Folk Art Museum. "pieces that used to be $80 a few years ago now going for $1,00 or$2,000."
The prices for such collections are far, far lower than the astronomical sums commanded for fine art.
Works by even modern and contemporary masters now regularly sell in the seven-figure range.
Folk collectables include a potpourri of items, some of the most popular of which are woodcarvings of animals such as the jaguar, masks replicating those once used in tribal ceremonies, miniature carvings and tin figures, cast-iron switch plates, ceramic bowls and figures and carvings of various saints called santos.
Much folk art and crafts come out of traditional religious and family celebrations and ceremonies. One of the predominant celebrations is the Day of the Dead, Dia de Los Muertos, the Nov. 2 Mexican holiday that celebrates the reunification of dead friends and family members with the living.
"We have tremendous market for Day of the Dead figures," said Nancy Oshima, general manager of the Soap Plant on Melrose Avenue. "People usually shy away from imager of death, but it's becoming more accepted. People see it as a part of life now."
There are any number of reasons for the increased interest in folk arts and crafts, not the least of which is that the work has become just downright trendy.
"You can find Mexican folk art at Bullock's now, and 10 years ago you would never have seen it at a place like that," said Peggy Byrnes, co-owner of Sonrisa, a folk art shop on Melrose Avenue. "It used to be a very select group that collected folk art, but not any more."
"There's that whole notion of grabbing something, collecting it before it is gone," said curator Laurie Beth Kalb of the Craft and Folk Art Museum. "That's a collecting notion of the 20th Century, that the art is going to just go away. But folk art isn't dying."
"We've had a 50% increase in (sales of) Mexican folk art in the last year," said the Soap Plant's Oshima, who also works with the store's upstairs folk art gallery called La Luz de Jesus. "Prices of woodcarvings have nearly doubled in the last year.
In Pasadena, business is going so well for the popular Folk Tree on South Fair Oaks that owner Rocky Behr this summer opened a second store near the original.
Also recently expanded is Federico Jimenez's Federico shop in Santa Monica, which specializes in Mexican art and American Indian folk art.
Both Jimenez and the Folk Tree's Behr credited "Santa Fe Style," a 1986 decorating book by Christine Mather and Sharon Woods, as a big force behind the current folk art craze. The book helped to make folk art items such as santos popular as interior decorating accessories, Behr said.
Although Jimenez noted that folk art prices have tripled in the last year, the affordability of most pieces (The Folk Tree has items ranging from 10 cents to $4,000, for instance) was an element cited by several folk art aficionados. The works are affordable for beginning collectors.
The Craft and Folk Art Museum's Kalb, however, cautioned that very little sold in most shops under the guise of folk art is actually museum-quality art.
"What Sonrisa and Folk Tree have is really tourist art, although it's based on folk art," said Kalb, who is completing her Ph.D in folklore and folk life at the University of Pennsylvania. "As a museum, the distinctions that we make are that folk art is communally based.
While agreeing that many items in shops are indeed tourist art, Kalb's counterpart at the Southwest Museum, Curator of Folklore Michael Heisly, stressed that tourist art "is not some kind of awful contamination. It's merely part of the artists' total social context, and (commercial buyers) are part of the universe of buyers."
At the Craft and Folk Art Museum, a $12-million campaign to build a 5,000-square-foot home on Wilshire Boulevard and Curson Avenue is well under way. The new space, expected to open in 1992, will replace the museum's 2,000-square-foot space on the same site. In the interim period, the museum-which has been closed since June 30 – will take over 10,000square-feet on the fourth floor of the May Co. at Wilshire Boulevard and Fairfax Avenue. The first exhibition in its temporary space, "Hands On! Objects Created in Our Time," is scheduled to open Nov. 22.
Other American museum dedicated to the folk-art includes San Francisco's Craft and Folk Art and New York's Museum of American Folk Art.
"In the last decade, there's been substantive increases in interest in folk art, from everyone from collectors and scholars to the guy off the street," said Charlene Cerny, director of the Santa Fe Museum.
"It's important for Los Angeles to have a credible folk art institution because there are so many different cultural groups and language groups in Los Angeles. There's a rising consciousness of knowing about multicultural diversity," said the Craft and Folk Art Museum's Ela.
Sonrisa's Byrnes suggested that the popularity of folk arts and crafts may be because the colorful pieces fill a spiritual need that is seldom met in large metropolitan areas such as Los Angeles.
"I think (folk art) bridges the gap between the inner world and the material world," she said. "Religion is the other thing that speaks to that and a lot of us don't practice that, so what's left is art.
"It focuses on great myths: death, resurrection, birth. It's about those issues that religion once dealt with, issues with a universal appeal." "
January 18, 1999
Art With a '60s Bent for the Average Joe
By Ed Leibowitz
"Shag, currently the subject of a one-man show at the La Luz de Jesus Gallery in Los Feliz, has emerged as a leading conjurer of neo-swingers' fever dreams.
The Orange County artist's canvasses blossom with blowfish lamps and monophonic hi-fis, cocktail shakers and dry martinis, piano bars, Vegas mobsters and Polynesian gods. He has brought Captain Morgan and the Dubonnet Monsieur to the table for "Dean Martin's Last Supper" and a '60s sex kitten with a smoking gun to the bedroom of a bath robed blue cockroach for "Franz Kafka, Swinger."
He has sought major inspiration from tiki bars and thrift stores, ancient album covers and his own household furniture. The artist displays a particular flair in the many coiffures he has lavished upon his female subjects.
"Originally, every woman I used to paint had a bubble haircut," Shag, 35, says. "Then I went to a bouffant, and then I realized I just kept repeating myself over and over. So when I watched an old movie, if I saw a hairstyle I thought I could use, I would sketch it. Audrey Hepburn in 'Breakfast in Tiffany's'-you see a lot of that."
Although he dates his own preoccupation with lounge culture before the swinger craze, Shag is no purist. An Arne Jacobsen egg chair he recently purchased may appear in one of his paintings. And even though he conceived the cover for one of exotica master Les Baxter's CD re-releases, his enthusiasm has limits.
"The Les Baxter, the Martin Denny stuff-it bores me," he says. "Just getting to do the album cover was neat. People are probably going to be aghast when I say I'm bored with Les Baxter, Martin Denny, and Arthur Lyman. But I move more toward soundtracks."
Shag has similarly parted company with the current ultra-lounge retail orthodoxy. While modernist boutiques on Beverly Boulevard now charge a king's ransom for a '60s molded divan, while the vintage clothing store index for a porkpie hat approaches its weight in gold, Shag has hesitated to similarly inflate prices on his own product.
His smaller works begin in the $450 range, and even his larger visions do not usually top $2,000, the result being that all but three paintings in his current show were sold before the opening, and the two that weren't went on opening night.
"It leads me to believe that prices are too low," Shag says. "But I don't want prices to be bumped up so high that the common man can't afford one."
JUXTAPOZ
Spring 1996
John Gunnin
"It's Terracotta red and yellow with turquoise and electric blue trim and scaffolding. This must be Billy Shire's house. Billy blames Peter for the colors but Peter blames his father. Peter's house is no less sedate: Kelly green with yellow and blue trim. The two houses face each other across an empty lot.
"Buying is a disease," grumbles Billy Shire art collector and creator of the underground style meccas Wacko, Zulu, La Luz de Jesus Gallery and the Soap Plant. We've been invited over to tour his house, an inner sanctum of folk art, relics, and ritual objects. He shows us an Indonesian crown made of bronze skulls, then points to a rug displaying red swastikas, each one inside a Star of David. "It's Navajo," explains Shire. The Nohokos (the reverse swastikas) are cosmic symbols of the four directions," but he seems to relish the juxtaposition of the two symbols more than their contextual significance.
" I started out with folk art," he says as he ambles through his collection. "Then I started to collect artists that used folk art images." He shows off masks from Oaxaca and then starts in on the skulls, stroking one of the black plasters that were sculpted by his father over forty years ago. It was his favorite toy as a child and a precursor to his present day skull fetish. Scattered around his house and shop are the skulls of an alligator, monkey, wolf, beaver, cow, dog, dear, human and even a skeleton of an eight month human fetus.
To his chagrin, ants are devouring his favorite fifteen year-old sugar skull from Mexico.
Next, he unveils several delicate wooden wands that are used in Native American peyote ceremonies. Some practitioners badgered him about having them for sale in the shop, so they became part of the home collection. Billy, who once said he hoped to incorporate blasphemy as a way of life, wonders aloud who he might offend next. But beneath his swagger lies impressive knowledge of Macumba, Santeria, and other religious cults from which he has appropriated objects, relics and images. Never self-satisfied, Shire's latest mission is finding out-sider art made by prisoners, hobos and tramps.
Billy designs and retools the graphics, logos, promotions and facades for each of his stores. He started the Soap Plant with his mother in 1971 to sell soap and baskets but soon established a gallery so his friends could have shows. "The gallery part was always very figurative," he says. "I knew a lot of illustrators and it snowballed from there. I definitely pursued some people, like Joe Coleman." Gary Panter, Mauel Ocampo, Neon Park, and Robert Williams have also had shows at La Luz de Jesus. Patron Shire has became the Peggy Guggenhein of Lowbrow.
Eventually, a whole new school of art exploded from the doors of La Luz de Jesus. These images merged with the kitsch and folk objects to form a hybrid outsider aesthetic that branded its impression first on Melrose, then on to the city of Los Angeles as a whole.
Soon, art lovers from King's Road to Shinjuku were talking about the new LA style, although very few of the cognoscenti knew that its architect was but one man.
Openings at La Luz de Jesus are not to be missed. The visitors complete with art for visual interest and there's always the occasional celebrity attendee, like Nicholas cage or Johnny Depp. At the old Melrose location, a line often curled outside the door while a bouncer admitted visitors one by one. The fire department continually hassled Billy about the large crowds, so he recently moved the gallery and the Soap Plant to a converted post office on Hollywood Blvd.
After our tour Billy sends for Peter, the other half of the Shire equation. Billy, the subversive, the contrarian, the dark and passionate Dionysian, sets off Peter in high relief.
Peter is the consummate craftsman and punster, exuding an Apollonian wit and countenance. You can see it in their cars: Peter drives a '56 Ford F100 truck, perfectly restored in candy apple red, Billy drives a '62 Cadillac Convertible, dinged and rusted with old newspapers and announcements for art openings padding the floor.
Peter's studio is surrounded by Spanish billboards that say things like "El Matador de Cucarachas." The Japanese calligraphy on the hand painted sign over the door hints at Peter's personality: "The artist's Lair; Aggravated Furniture; Birds Live in This Sign; What, me Worry?" Inside the studio is partitioned into opposing kingdoms of ceramics and metal. Fat little welded angels watch over the place and a robot (the sorcerer's apprentice?) rides a unicycle back and forth on a tight wire. Jazzy little sketches spring up in nooks. The big band version of "Sentimental Journey" blasts out of a radio while the kiln purrs out back.
Peter is a workaholic who likes to play. He sprinkles his soft speech with quips and quotes. Unlike Billy, he's not a collector-except for his 100 or so varieties of hammers. "I'm into modernism and he's into folk," says Peter. " The connection between us is our working-class sympathies."
A graduate of Chouinard Art Institute in 1970, Peter is best known for teapots that are not teapots, but rather modernist collages of form and color. They are fun, with nicknames like Cookie Cutter Moderne and Mexican Bauhaus, reveals both fascination and disdain for industrialism. As these hyperactive shapes collide to form an ostensibly utilitarian vessel, the pretense of making tea becomes subverted. The viewer is left a little epiphany- it won't work, but isn't it fabulous! The finest examples of theses works are published in a 1991 catalogue called Tempest in a Teapot.
In 1984 Peter was kidnapped by Italian designers and inducted into the Memphis group, an influential force in furniture and design known for their spoofs of fifties design clichés. "They knocked on the door of my studio and proclaimed that I must come to Italy to design furniture. Then I had lunch with Ettore Sottsass and he said the same thing. There was really no choice."
He now concentrates on metal sculptures that are related, in form, to the ceramics. His larger works continue to sprout up in public spaces around Southern California. A column and beam structure installed in Elysian Park can be seen from the right field bleachers in Dodger Stadium. In addition, he's dipped into clay again after a ten-year hiatus.
Why does Shire make art? "It's a political act and a desire to include the middle class and the working class," says Peter, stroking his beard. "Because they know what it is. And that's exactly why the art world hates it and calls it design. They seek exclusivity- you know, one has to create some cache, otherwise there's just no value."
The brothers blossomed through the teachings of their father, Henry Shire. Born in Brooklyn in 1911 to Russian émigré parents, the elder Shire was a classically trained artist who also built furniture and houses, drew political cartoons and worked as a lab technician for Technicolor.
Henry Shire moved to Chavez Ravine in1935. He was an idealist and freethinker who raised the boys with art but hoped they would be scientists. He organized labor unions and joined the American Communist Party in hopes of seeing all classes of people obtain the American Dream.
"He was kicked out of the carpenter's union," Peter recalls, "for attempting to get equal rights for the black rank and file. At that point the union was run by the Mafia and they saw his activities as an undesirable threat. Once, he was hauling a load of bricks through Hollywood when some mobsters took up chase. He and his friend ended up throwing the whole load at those guys from the back of the truck."
Henry Shire painted large murals for communist rallies, and was eventually investigated by the FBI and black listed. "He picked up custom architecture work when he could," remembers Peter. "He wound up working on Schindler houses. The architects loved him because he was way overqualified and could make the necessary aesthetic judgments." Privately he continued to produce art and made some stunning scratchboard interpretations of Peter's work before he died in 1985. In 1990, Billy Shire had the pleasure of presenting a retrospective of his father's work.
Henry Shire's dream house still stands in Echo Park, a working class neighborhood northwest of downtown Los Angeles. The brothers grew up in this very same neighborhood eating teriyaki and tamales to the sounds of Tagalong. Now they each love within several hundred yards 9of the old house.
Billy wants to travel and keep collecting and Peter's happy in the studio creating sculpture, painting and furniture. The two brothers seem like two aspects of the same person. "We probably should get married," says Peter.
La Luz de Jesus is located at 4633 Hollywood Blvd in Los Angeles. Call 213-666-poop for hours and information. Peter Shire is represented by Modernist Gallery in SF and the William Travver Gallery in Seattle."