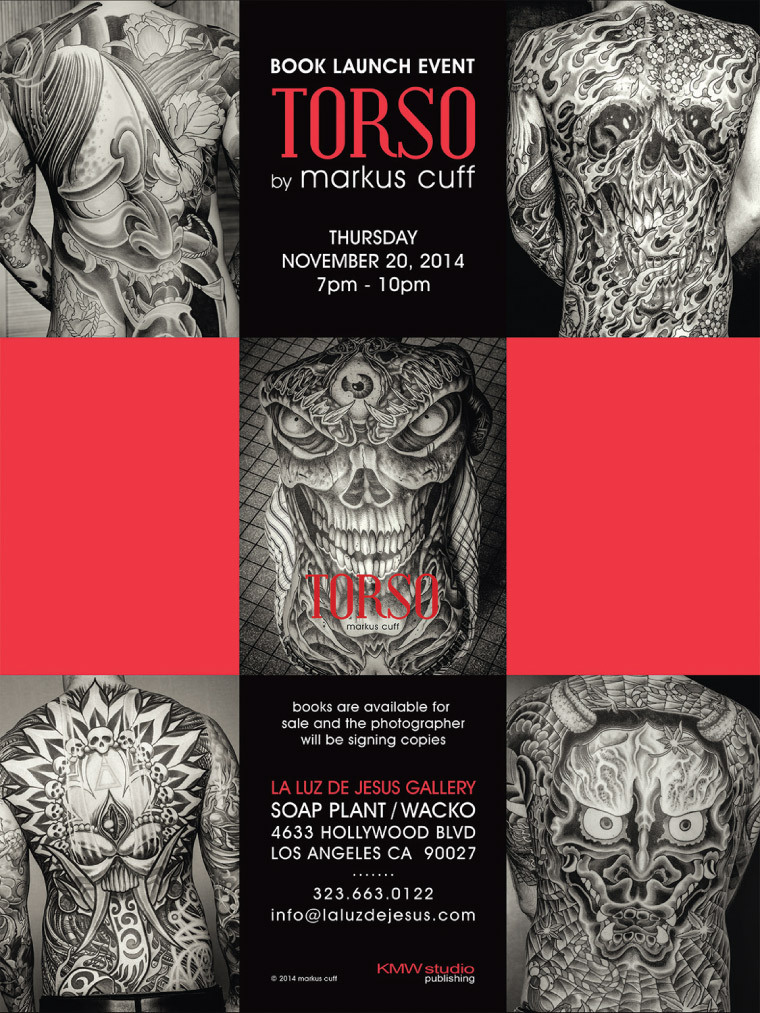 18 Nov

Markus Cuff: Torso
Markus Cuff: Torso
Book Release & Signing Party

Thursday, November 20th, 7-10pm

Torso is an amazing collection of work spanning 16 years, that documents the burgeoning tattoo phenomenon across the United States and Pacific Islands; these photographs are slick and darkly addictive…reflecting artistic expression that links to both personal and social identity, the telling of stories on the skin, of being and belonging.
Included are stunning examples of work by respected tattoo artists such as Mike Rubendall, Jill Bonny, Khalil Rintye, John The Dutchman, Horiyoshi III, Carlos Torres, Matt Breckerich, Clark North, Aaron Coleman, Horitaka, Steve Looney, Ron Earhart, Nate Bunuelos, Edwin Shaffer, George Campisi and Denny Besnard.
Torso
Markus Cuff
Hardcover 120 pages
2014 KMW Studio
8.8″ x 12″
Shipping Weight: 2 Lbs.
$75–Click here to buy now!
Markus Cuff – artist, photographer, musician, thinker, social documentarian, nature lover and Jungian.He is perhaps the most highly respected and visible photographer in the tattoo world; regularly contributing to Tattoo Magazine, Tattoo Flash, and producer of many magazine specials. He was the single largest contributor to the Rolling Stone book Tattoo Nation maybe because of his access to Rock's royalty. Markus was the original drummer for Emmylou Harris and the cult band The Textones.
Only books purchased here will qualify for signing.
Reserve your signed copy today!
Contact the book store for purchase information.
(323)663-0122 or sales@soapplant.com.
[contact_form name="ask-info-product" ]