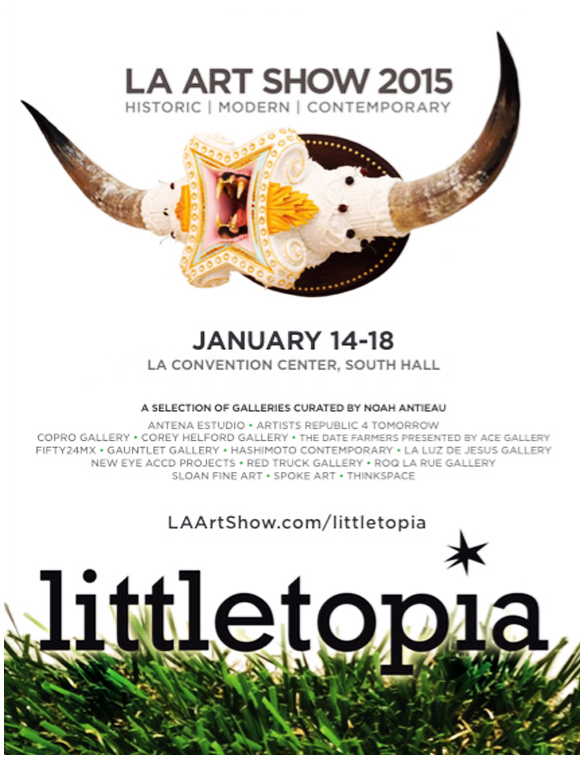 14 Jan

Littletopia at the L.A. Art Show 2015
Littletopia at the L.A. Art Show 2015

January 14 – 18, 2015
The Los Angeles Convention Center – Booth#1124

Exhibition Hours
Wednesday, Jan: 14 7-11pm
Thursday-Saturday: 10am – 7pm
Sunday, Jan 18: 11am – 5pm
La Luz de Jesus Gallery returns to the L.A. Convention Center for the 20th Anniversary of the L.A. Art Show. Once again we will anchor the section known as Littletopia, but his year our own Scott Hove (whose next solo exhibition opens in April) has designed an archway for the entrance to this eclectic and important selection of contemporary art galleries brought together by Red Truck Gallery's Noah Antieau. His smaller cakes, with titles taken from trending social media topics, are sure to be the most meme-worthy of the show.
Rather than recycle work, we've chosen to mix a little old with mostly new.
La Luz de Jesus Gallery at the L.A. Art Show will be the West Coast Debut of Damien Echols, whose life and struggle has been the subject of multiple award-winning documentaries. We're also bringing never before exhibited pieces by Charles Binger, Harold Fox, Scott Hove, Hudson Marquez, Annie Murphy-Robinson, and José Rodolfo Loaiza Ontiveros. Christine Wu is well represented with pieces from different aspects of her career, all of which will be new to most patrons. We've also got great pieces from Shaun Berke, Dave Lebow, and Patrick V. McGrath Muñiz.

We'll be adding more photos soon of the Scott Hove installation and four more of his signature cakes.
Purchases can be made at the show or by phone, and purchases on site can be taken home immediately. Click on the images for expanded view and info. Delivery will need to wait until the art fair has ended and the artworks are returned–with added provenance.
Contact gallery director Matt Kennedy for purchase information.
(323)666-7667 or info@laluzdejesus.com.
Contact the Harwood Museum for exhibition visiting hours and other event info:
http://www.harwoodmuseum.org/exhibitions/view/143
[contact_form name="ask-info-product" ]