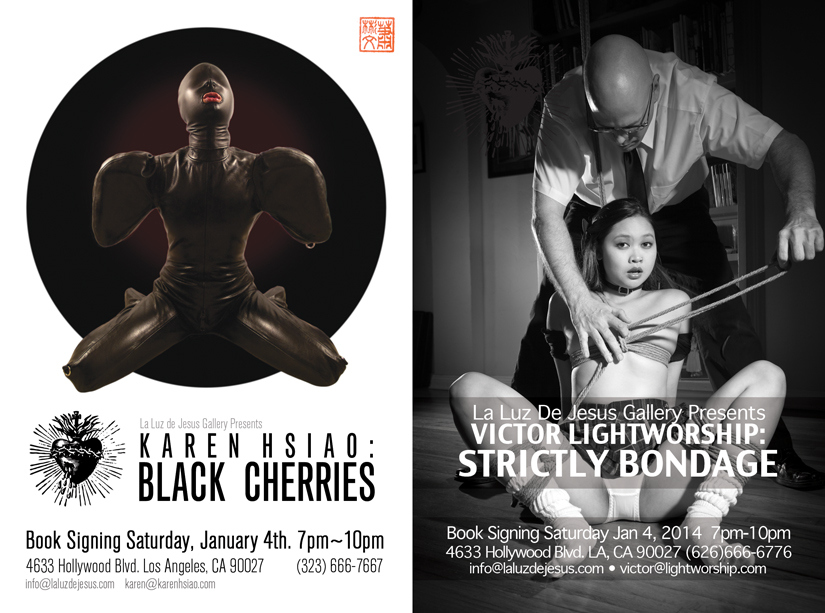 17 Dec

Karen Hsiao: Black Cherries & Victor Lightworship: Strictly Bondage
Karen Hsiao: Black Cherries & Victor Lightworship: Strictly Bondage
Book Signing Bondage Party
Saturday, January 4, 2013, 7 PM – 10 PM

It's bondage night at La Luz de Jesus Galley, as we welcome two of the premiere photographers in the genre for their first area signings.
Black Cherries is one of the newest collection of works by Karen Hsiao. This collection focuses on the minimalism in design by using simple blacks and reds to express the subtle hints of lust and rebellion within bondage.
Karen Hsiao will have a discreet portfolio of prints with her so you can purchase signed editions of your favorite photographs–but these are very limited edition. Several of her models are expected to attend as well.
Three years in the making and after it's first appearance in Vanilla Gallery, Japan, Black Cherries is finally making it's book debut at La Luz de Jesus Gallery.
Softcover: 96 pages
Publisher: Karen Hsiao Fine Art Editions (Nov. 2012)
Language: English
Product Dimensions: 8.5 x 8 inches
Shipping Weight: 16 ounce
$30 (applicable tax and postage not included)
Victor will be giving out a FREE PRINT with every book purchased–signed and numbered from an edition of 50
Ravishing girls, naked and tethered. In more than 200 high quality black and white pictures, photographer Victor Lightworship shepherds us into the fascinating world of erotic submissiveness. Tied up with expertly applied knots, these innocent young creatures are at the tantalizing mercy of their lascivious onlookers. At 128 pages, this eleborate hardcover book presents the most delectable babes in various states of bondage. Goliath's STRICTLY BONDAGE is a must for bondage fans and lovers of kinky photography alike. Provocative, arousing and absolutely captivating.
Victor Lightworship was born in 1968 and became interested in photography at an early age. He studied photography at the Art Institute of Atlanta. After graduating from college, Victor started to assist professional photographers and soon began shooting commercials himself for clients like Miller Beer, Woman's Daily Wear and Cirque du Soleil. At the height of his commercial success Victor abandoned his mainstream career in order to focus on his artistic work. He has been published in several countries and already had several solo exhibits.
"Strictly Bondage makes me want to be a boy scout again" — Robert Whitman
Hardcover: 128 pages
Publisher: Goliath Books; Mul edition (May 15, 2013)
Language: English
ISBN-10: 3936709572
ISBN-13: 978-3936709575
Product Dimensions: 5.5 x 8.5 inches
Shipping Weight: 14.1 ounce
$24.95 (applicable tax & postage not included)
Call the book line to reserve your signed copies: 323.663.0122