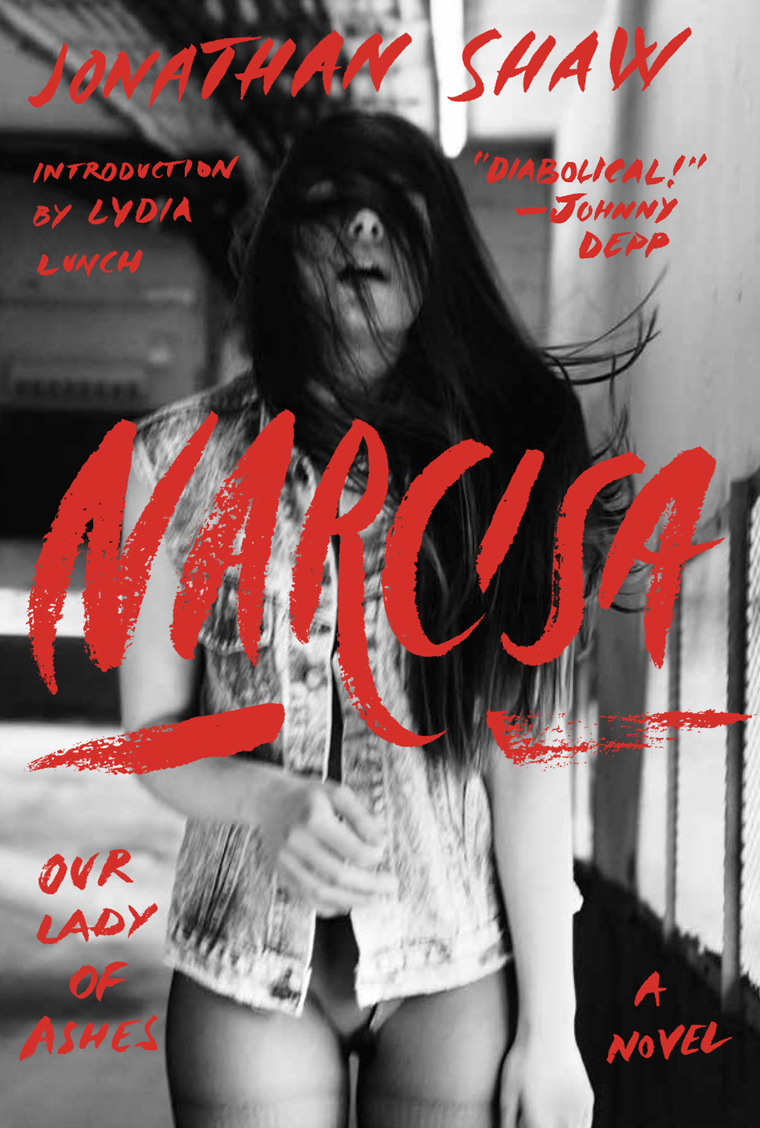 01 Jan

Jonathan Shaw's Narcisa
Narcisa – Our Lady of Ashes by Jonathan Shaw
Book Reading & Signing Party

Friday, March 27th, 8-11pm

Johnny Depp and Harper Perennial present:
Jonathan Shaw reading from his infamous cult-classic novel,
NARCISA – OUR LADY OF ASHES
Friday March 27 from 8:00-11:00 pm
The first trade edition of the cult classic from the artist/author hailed by Iggy Pop as "the great nightmare anti-hero of the new age," legendary tattoo artist Jonathan Shaw, that chronicles a scandalous, degenerative addiction between two people—a wild, brutal, passionate, and unstoppable ride into depravity and darkness through the back alleys of Rio De Janeiro and New York City.
A legendary tattoo master and notorious creator of trendsetting underground art, Jonathan Shaw has created a masterpiece with this powerful story that captures the destructive addiction of love, sex and drugs, embodied in two people whose irresistible passions threaten to destroy them.
In the wild backwaters of Rio de Janeiro and New York, motorcycle-riding, nomadic outlaw poet Ignacio Valencia Lobos—known as Cigano—attempts in vain to curb the unhinged habits of his lover Narcisa, a crack-smoking philosopher prostitute. Though he knows they will destroy each other, Narcisa is an exquisite poison he cannot resist. As they navigate the chaos of her downward spiral—dragged deeper by the gravity of drugs, burglaries and violence, Cigano recounts a love affair doomed by insanity, dysfunction, and vice.
A magnificent epic of literary genius, Narcisa belongs among the works of such greats as Charles Bukowski, Henry Miller, William S. Burroughs, Jack Kerouac, Irvine Welsh, and Hunter S. Thompson.
"Fearless storytelling." —Marilyn Manson
"Jonathan Shaw is the great nightmare anti-hero of the new age." —Iggy Pop
"Shaw's writing is one hell of a wild ride through the bizarre netherworld of his own damaged consciousness. His experiences are real and his language and insights kinetic and brutal… Shaw's writing certifies him as a subversive and criminal inhabitant of the world of human expression." —Jim Jarmusch
"A darkly hilarious litany of doomed love, drug addiction, compulsive sex and mutual enslavement…" —Vice
Title: Narcisa – Our Lady of Ashes
Author: Jonathan Shaw
Trade Paperback: 624 pages
Publisher: Harper Perennial
Language: English
ISBN-9780062354990
ISBN 10: 006235499x
Product Dimensions: 6 x 9 x 1 inches
Shipping weight: 2 lbs
$16.99
About the author:
Jonathan Shaw, the son of jazz legend Artie Shaw and the glamorous Hollywood starlet Doris Dowling, is a world-traveling outlaw artist, gonzo journalist, novelist, blogger, spoken-word performer, witch doctor, anti–folk hero, and underground philosopher. He resides in Rio de Janeiro, with frequent visits to other home bases in New York City and Hollywood.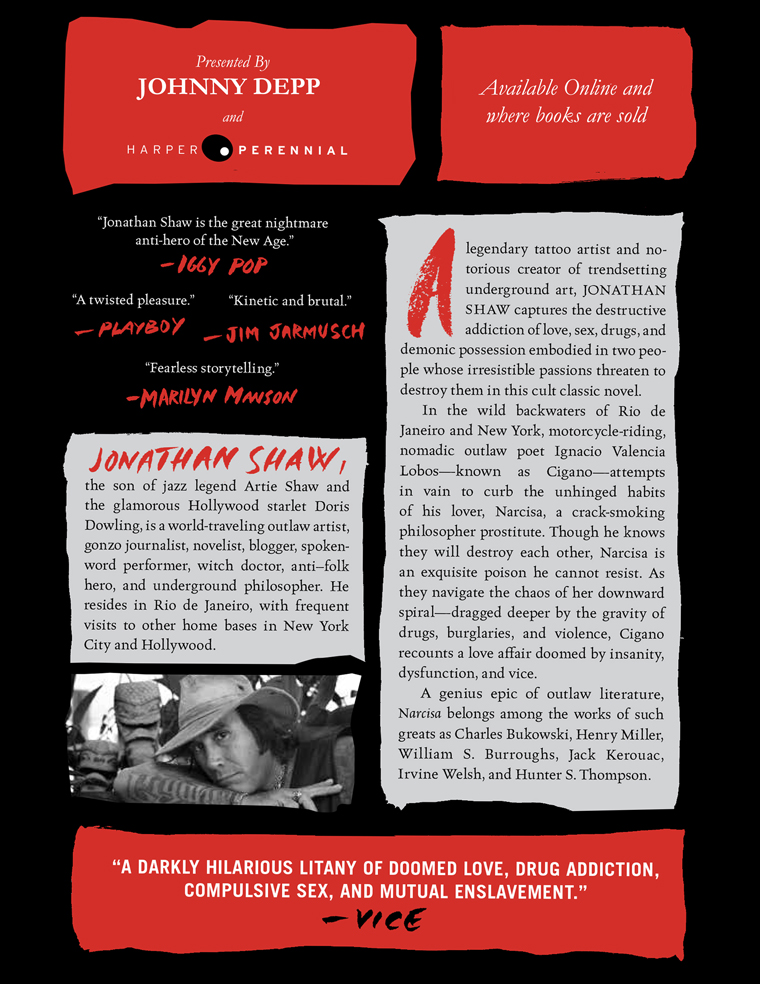 Only books purchased here will qualify for signing.
Reserve your signed copies today!
Contact the book store for purchase information.
(323)663-0122 or sales@soapplant.com
[contact_form name="ask-info-product" ]