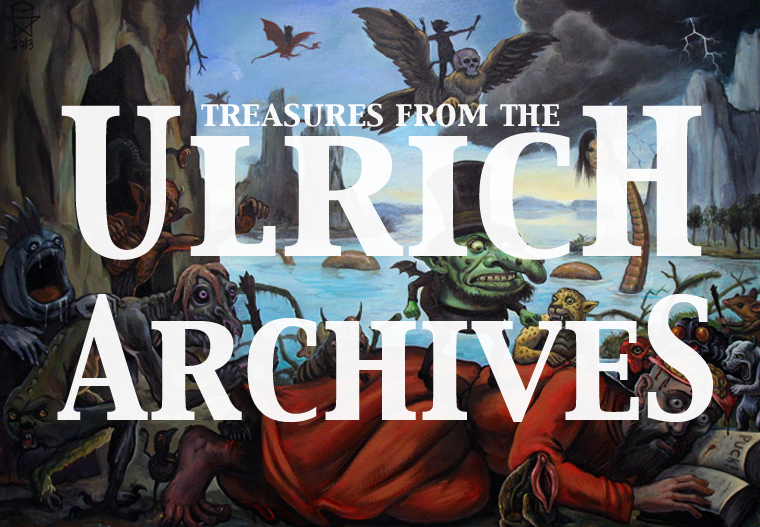 01 Nov

CHRISTOPHER ULRICH ARCHIVE SALE
CHRISTOPHER ULRICH ARCHIVE SALE

A temporary offering of rare paintings, drawings, lithos, and studies from the Christopher Ulrich Archive.
Now through December 5, 2014

Christopher Ulrich is a painter's painter. His work has hung at Mesa Contemporary Art Museum, Grand Central Art Center, The Harwood Museum of Art (where it is currently on exhibit), and numerous fine art galleries all over the world. His darkly surreal allegory paintings have been published in Hi-Fructose, Pop Surrealism magazine, LA Pop, and the books Tome, Melancholia, and Art of the Lowbrow Tarot, as well as in the La Luz de Jesus 25th Anniversary book. Copies of his self-published Demoneater are rare and highly collectible, so a career spanning volume of his entire Christ Chronocrator Cycle is currently in the works. He has mentored many artists of his generation, and studied under Jesuits and Burne Hogarth (with fellow student, Michael Hussar). December 2012's The Reckoning was the most talked about exhibition of new work in recent memory, and his mind-bending continuity sketches were a pivotal part of the Metallica movie Through the Never.
Ulrich usually works large, and he's quite prolific. His Last Supper is over sixteen feet wide and almost nine feet tall. His Demoneater portraits are all eight feet tall, oil-on-wood panels. His Illuminator pieces (all oil on canvas) are framed in custom, wooden temples that measure roughly six feet by four feet. If you've got the space and the scratch, some of these are still available, but we realize that not everybody is able to hang paintings the size of a car in their one and two bedroom apartments.
After a recent studio visit, I came across an assortment of paintings from his enormous archive that aren't gigantic. There are incredible portraits dating back to 2003, tiny process drawings that inspired his Reckoning series, and published commercial work that ranks among his most recent. If you've ever wanted to own an Ulrich painting, but didn't have the walls or wallet to make it work, now is your chance.
This isn't an ongoing endeavor. We'll be offering these for sale from now until December 24th. Whatever is left after that is getting donated to one of five museum collections eager to add Christopher Ulrich to their already impressive holdings. Available large format works can be accessed here:
Email gallery director Matt Kennedy at info@laluzdejesus.com or call (323)666-7667 for availability and payment plan info.