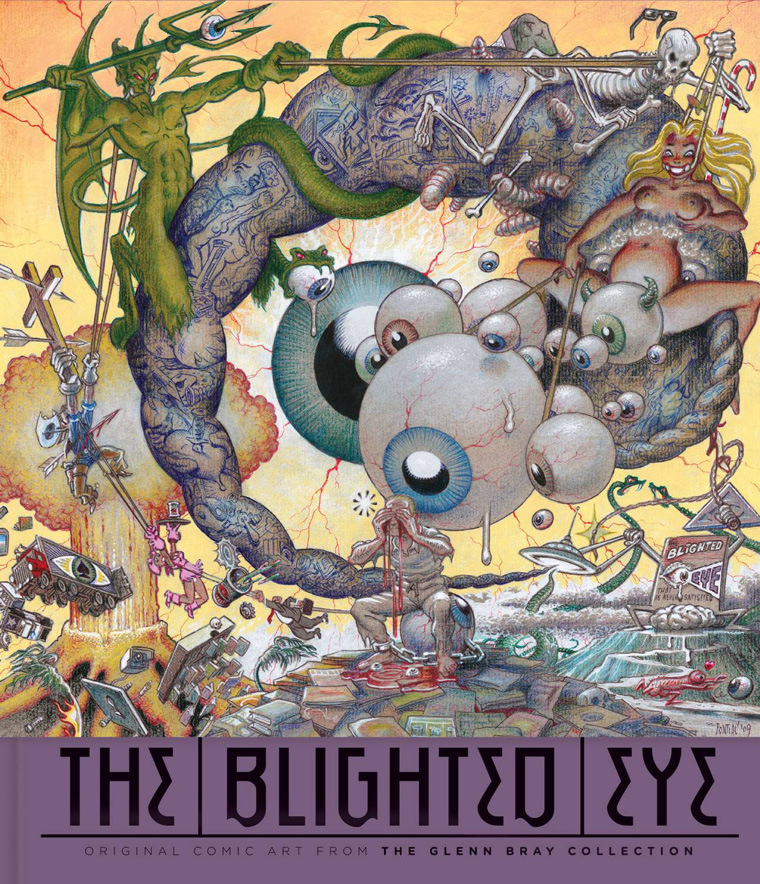 Blighted Eye: The Collection of Glenn Bray
Blighted Eye: The Collection of Glenn Bray
Book Release & Signing Party with Special Guests
Friday, April 25, 2014
7 – 9 PM

The Blighted Eye showcases Glenn Bray's extensive collection of original comic art by cartoonists such as The book features work by a pantheon of cartooning masters, including Charles Addams, Carl Barks, Charles Burns, Al Capp, Dan Clowes, Jack Cole, R. Crumb, Jack Davis, Kim Deitch, Will Elder, Al Feldstein, Virgil Finlay, Drew Friedman, Chester Gould, Justin Green, Rick Griffin, Bill Griffith, Matt Groening, George Grosz, V.T. Hamlin, Jaime Hernandez, George Herriman, Al Hirshfeld, Graham Ingels, Bernie Krigstein, Harvey Kurtzman, Gary Panter, Virgil Partch, Savage Pencil, Peter Pontiac, Charles Rodrigues, Spain Rodriguez, Charles Schulz, Gilbert Shelton, Joost Swarte, Stanislav Szukalski, Irving Tripp, Chris Ware, S. Clay Wilson, Basil Wolverton, Wallace Wood, Jim Woodring, Art Young, and — it should go without saying — many more.
The Blighted Eye is the most copious, the most diverse, and the most lavish compilation of original comic art ever published — all from the mind-boggling collection of Glenn Bray. Bray was an enthusiast of marginal or outsider American pop culture when he started to collect original comic art in 1965 — a time when very few people, including the artists themselves, truly valued the original art. Bray has, over the last nearly 50 years, amassed the most eclectic collection of original comic art in private hands. Public exhibitions of original comics art has proliferated over the last decade with such shows as Masters of American Comics at LA's Hammer Museum and R. Crumb's Underground at Seattle's Frye Museum. Readers have been able to see this original art in museum catalogues and the occasional compilation of work digitally scanned directly from the original art. Although drawn for print, the hand-crafted, original art — brush strokes and pen lines inked on paper — offers a beauty and an unique insight into the form, a different way of perceiving the artist's work. Full color.
Glenn Bray will be here in person to sign his book, as will Todd Hignite and Robert Williams, who each supplied a foreword.
Hardcover: 416 pages
Publisher: Fantagraphics; 1st edition
Language: English
ISBN-10: 1606996959
ISBN-13: 978-1606996959
Product Dimensions: 1.2 x 1.1 x 0.1 inches
Shipping Weight: 6.6 pounds
Price: $100
If you cannot attend the event and would like a signed book, contact Soap Plant / Wacko at (323) 663-0122 or sales@soapplant.com