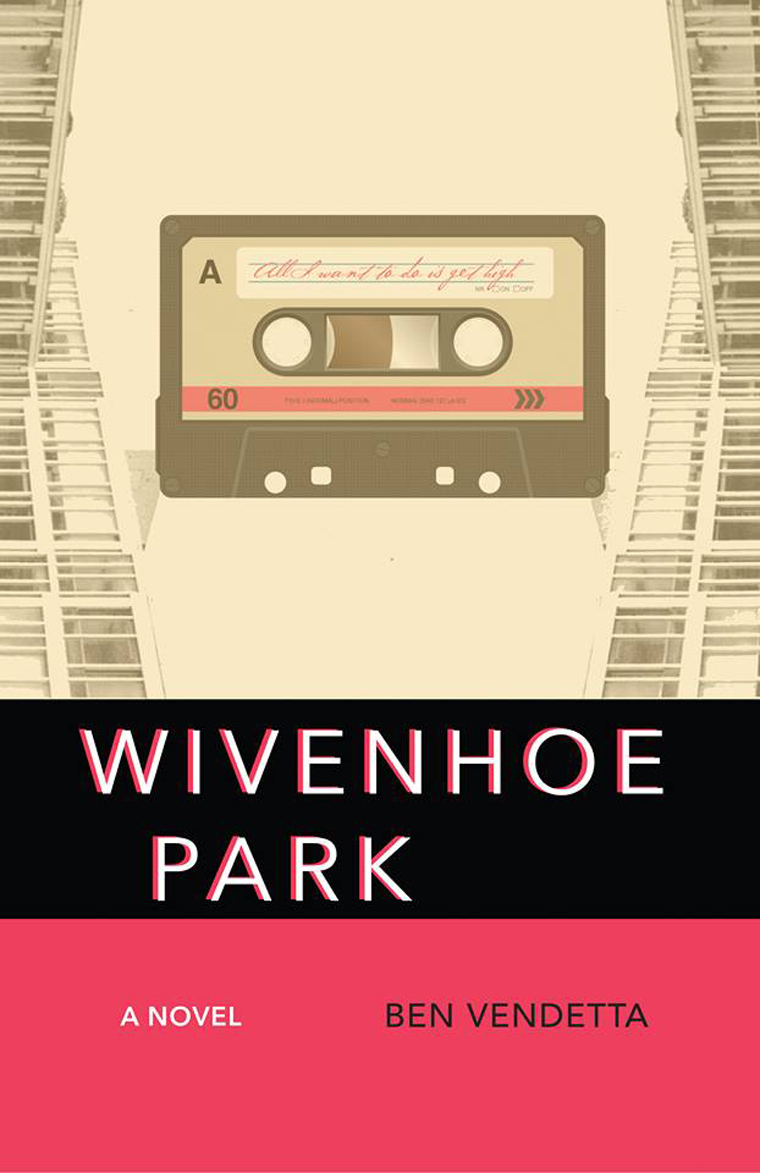 Ben Vendetta Book Signing
Ben Vendetta: Wievenho Park
Book Release & Signing Party

Thursday, February 26th, 7-9pm

Elephant Stone Records founder and novelist Ben Vendetta signs and tells stories about the indie music scene of 1985-86 and the legacy of college rock as depicted in his acclaimed novel, "Wivenhoe Park" (published by Cooperative Trade)
A world that included The Jesus and Mary Chain, Easterhouse, Primal Scream, The Cult, The Sisters of Mercy, Meat Whiplash, and all things Creation Records is the backdrop to this coming of age novel set in both the US and the UK.
DJ set courtesy of Lee Joseph. Grab your favorite 80s band t-shirt and dust of those mixed tapes.
Thursday, February 26th from 7pm – 9pm
@ La Luz de Jesus/Soap Plant/Wacko
4633 Hollywood Blvd
Los Angeles, CA 90027
(323) 666-7667 info@laluzdejesus.com
A blast from the post-punk past that brings back mid-Eighties Britain in one wired, synaptic rush, a coming-of-age story that is as poignant, political, hormonal and hilarious as the sounds it celebrates.
— Cathi Unsworth, author of Weirdo, Bad Penny Blues, The Singer
Forget the Great American Novel: what people really want is great rock & roll fiction. It's just a shame it seems such a difficult thing to do. It's an addictive read, an affirmative and faithful story of sex, drugs and rock & roll. Where an equivalent novel such as Nick Hornby's High Fidelity becomes ever more unrealistic to get to its happy ending, Wivenhoe Park retains a believable optimism through sheer faith in rock & roll.
— Paul Rayson, Muso's Guide
What a fun novel with sneaky depth. Vendetta brings back an '80s era when a stunning, now-legendary post-punk/indie rock scene was blazing in Britain, yet this time, unlike with punk rock, a smaller slice of Americans followed its brilliance. He slyly evokes this in a coming-of-college-age story of throwing off the influence (and snares) of normal Middle American life by instead immersing himself into the thick of the NME/Melody Maker/Sounds-fed maelstrom in England itself.
–Jack Rabid, The Big Takeover
If you were a post-punk kid growing up in the suburban Midwest in the '80s, London was your Mecca. Not all of us made the trip that decade, but now we can, thanks to Vendetta's vivid portrayal of a young Anglophile abroad, drowning out the ache of first heartbreak in a mad dash through the British music scene. If John Hughes were still alive… well… he'd never touch this story. It's too full of the sort of gritty realism that never made it into his well-scrubbed coming-of-age stories.
– Robert Cherry (former Editor-in-Chief, Alternative Press)
"Wivenhoe Park wrenched me back to a mid-80s Britain where punk was dead and alternative/goth ruled. If birds, booze and Bunnymen are your thing, as they are mine, then dust off your Sisters of Mercy LPs, squeeze into your Meat Is Murder t-shirt and enjoy the ride."
-Dave Hawes (Catherine Wheel)
Title: Wivenhoe Park
Author: Ben Vendetta
Paperback: 191 pages
Publisher: Cooperative Press Trade (distributed by Ingram)
Language: English
ISBN-10: 1937513300
ISBN-13: 978-1937513306
Product Dimensions: 5.5 x 0.4 x 8.5 inches
Shipping Weight: 8.8 ounces
Retail price: $14.99
Description: Set in the mid-1980s, Wivenhoe Park chronicles the adventures of Drew, a former track star turned pill popping, dope smoking, heavy drinking, rock 'n' roll-obsessed student with writing aspirations. Drew moves to England on a whim to escape various demons, such as a goth ex-girlfriend he can't seem to shake out of his system. Experiencing the ascent of a new indie music scene including The Smiths, Jesus and Mary Chain, and Primal Scream, he befriends a cast of characters, including a star Melody Maker journalist, a smooth mod from New York City, and several enticing British girls. Will Drew find peace, love and understanding or will it all burn down like cigarettes?
Author Bio: Ben Vendetta has been writing about rock and roll for his entire adult life for a number of publications, including The Big Takeover and Skyscraper. He published Vendetta Magazine from 1995 to 2002 and was the director of publicity at Dionysus Records before co-founding independent record label, Elephant Stone Records. A native of Ann Arbor, Michigan, he attended the University of Michigan before receiving his master's from Trinity College in Dublin.
Only books and records purchased here will qualify for signing.
Reserve your signed copies today!
Contact the book store for purchase information.
(323)663-0122 or sales@soapplant.com or click here to purchase your copy online.