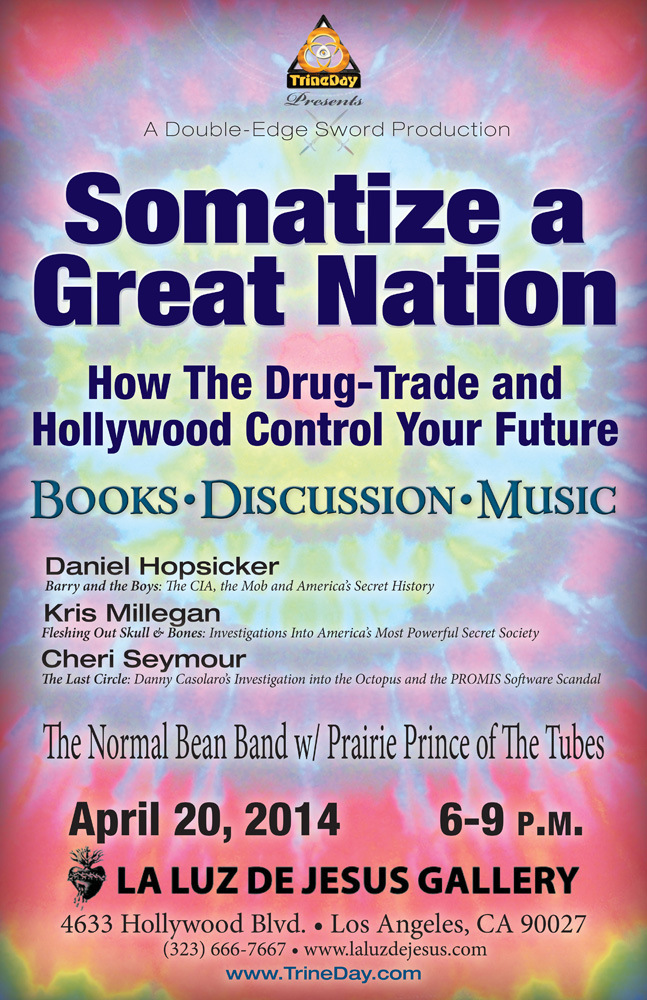 4/20 Hollywood, Drugs & Mind Control Event
Trineday Presents a 4/20 Hollywood, Drugs & Mind Control Event
With authors Daniel Hopsicker, Kris Millegan & Cheri Seymour, and a music performance by The Normal Bean Band, featuring Prairie Prince of The Tubes
Easter Sunday April 20, 6-9 PM

TrineDay and La Luz de Jesus present an Easter Sunday like no other on 4/20:
Somatize a Great Nation: How the Drug-Trade and Hollywood Control Your Future
It's an evening of Books, Discussion, Music and Ritual! In addition to author presentations and a musical performance by The Normal Bean Band (featuring legendary drummer Prairie Prince of The Tubes), TrineDay author and publisher Kris Millegan will be performing a Native American ritual of the three sacred herbs!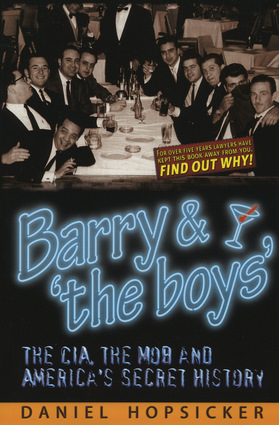 Barry and the Boys:
The CIA, the Mob and America's Secret History
by Daniel Hopsicker
An inside look at the United States' shocking political past
Based on the author's three-year-long investigation, this account exposes the story of lifelong CIA agent Barry Seal, the most successful drug smuggler in American history, who died in a hail of bullets with George Bush's private phone number in his wallet. Revealing Seal's active role in many of the nation's most notorious scandals–including the Bay of Pigs, the Kennedy assassination, Watergate, and the Iran-Contra Affair, and featuring primary documents previously unseen by the public, this unique history explores the Faustian bargains made by the U.S. government and the secret pasts of some of today's politicians.
ISBN: 9780970659170
6×9
482 pages
Trade paperback
$19.95
Fleshing Out Skull & Bones:
Investigations into America's Most Powerful Secret Society
Edited by Kris Milegan
An expose of Yale's supersecretive and elite Order of Skull & Bones
This chronicle of espionage, drug smuggling, and elitism in Yale University's Skull & Bones society offers rare glimpses into this secret world with previously unpublished documents, photographs, and articles that delve into issues such as racism, financial ties to the Nazi party, and illegal corporate dealings. Contributors include Antony Sutton, author of America's Secret Establishment; Dr. Ralph Bunch, professor emeritus of political science at Portland State University; Webster Griffin Tarpley and Anton Chaitkin, authors and historians; and Howard Altman, editor of the Philadelphia City Paper. A complete list of known members, including George Bush and George W. Bush, and reprints of rare magazine articles on the Order of Skull and Bones are included.
ISBN: 9780975290606
6×9
720 pages
Trade paperback
$24.95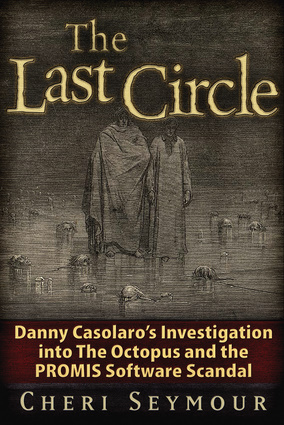 The Last Circle:
Danny Casolaro's Investigation into the Octopus and the PROMIS Software Scandal
by Cheri Seymour
Uncovering collusion between the government and organized crime worldwide
Probing one of most organized and complex criminal enterprises in the United States, this report exposes the dynamics of the Octopus, a globe-trotting undercover intelligence operative. Based on 18 years of investigative research, this account reveals high-level, covert government operations and the elaborate corporate structures and the theft of high-tech software (PROMIS) used as smoke-and-mirror covers for narcotics trafficking, money laundering, arms sales, and espionage. The Octopus connections to a maze of politicians and officials in the National Security Council, the CIA, the FBI, and the U.S. Department of Justice are revealed. A detailed look into the recent high-profile arrest of Mafia hit-man Jimmy Hughes is also included in this intriguing analysis.
ISBN: 9781936296002
6×9
480 pages
Trade paperback
$24.95
Signed books can be pre-ordered by calling the book store at (323)663-0122, or emailing sales@soapplant.com